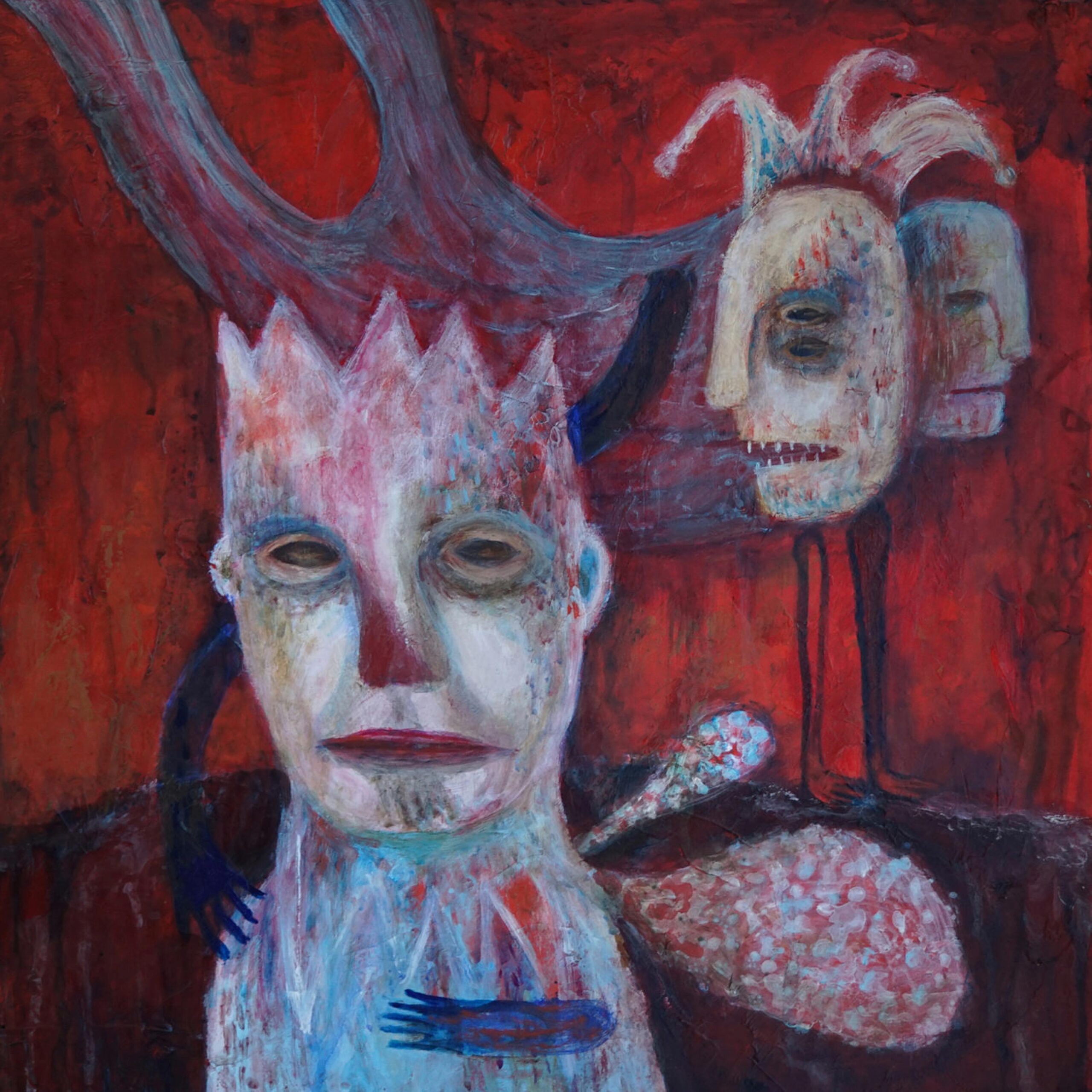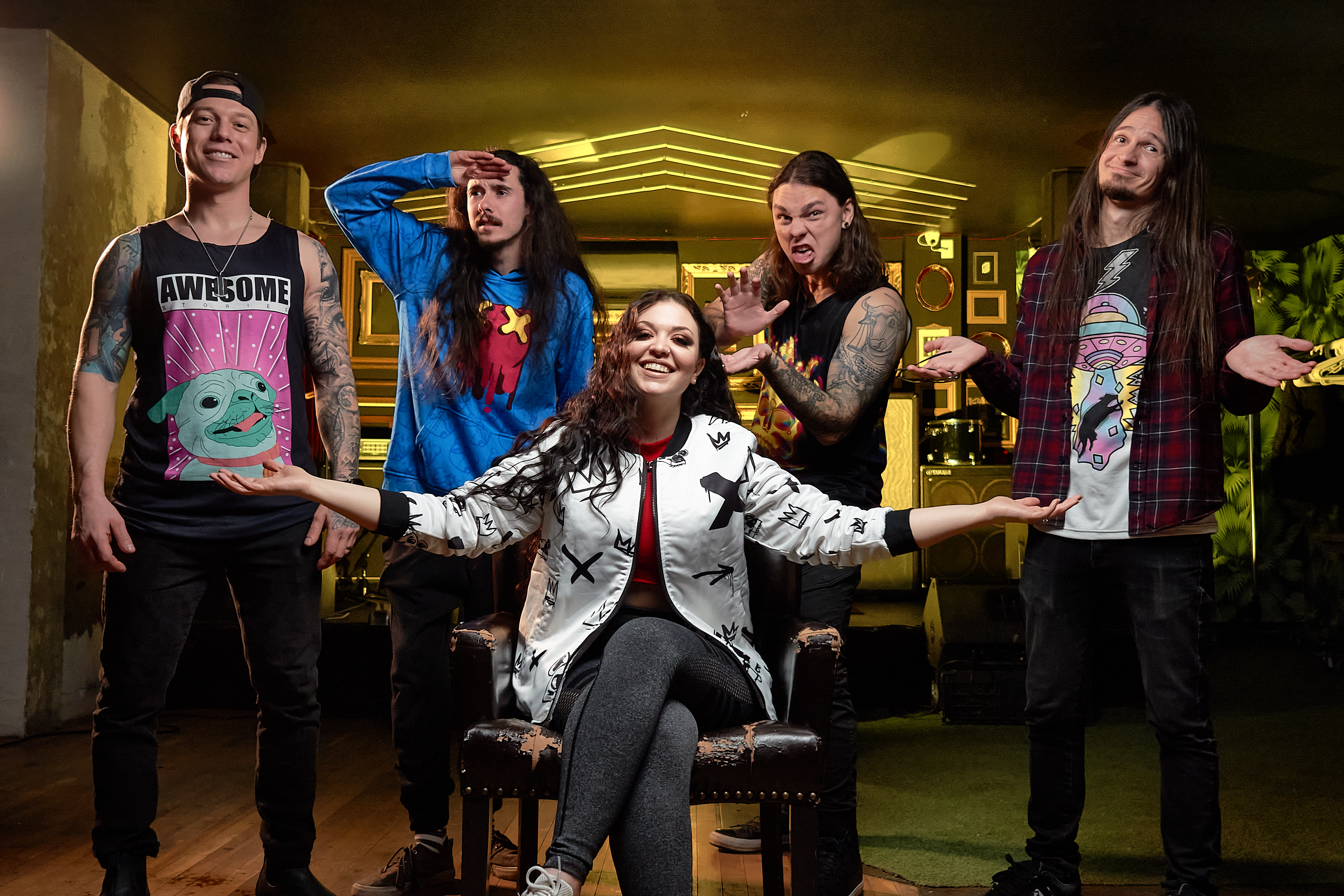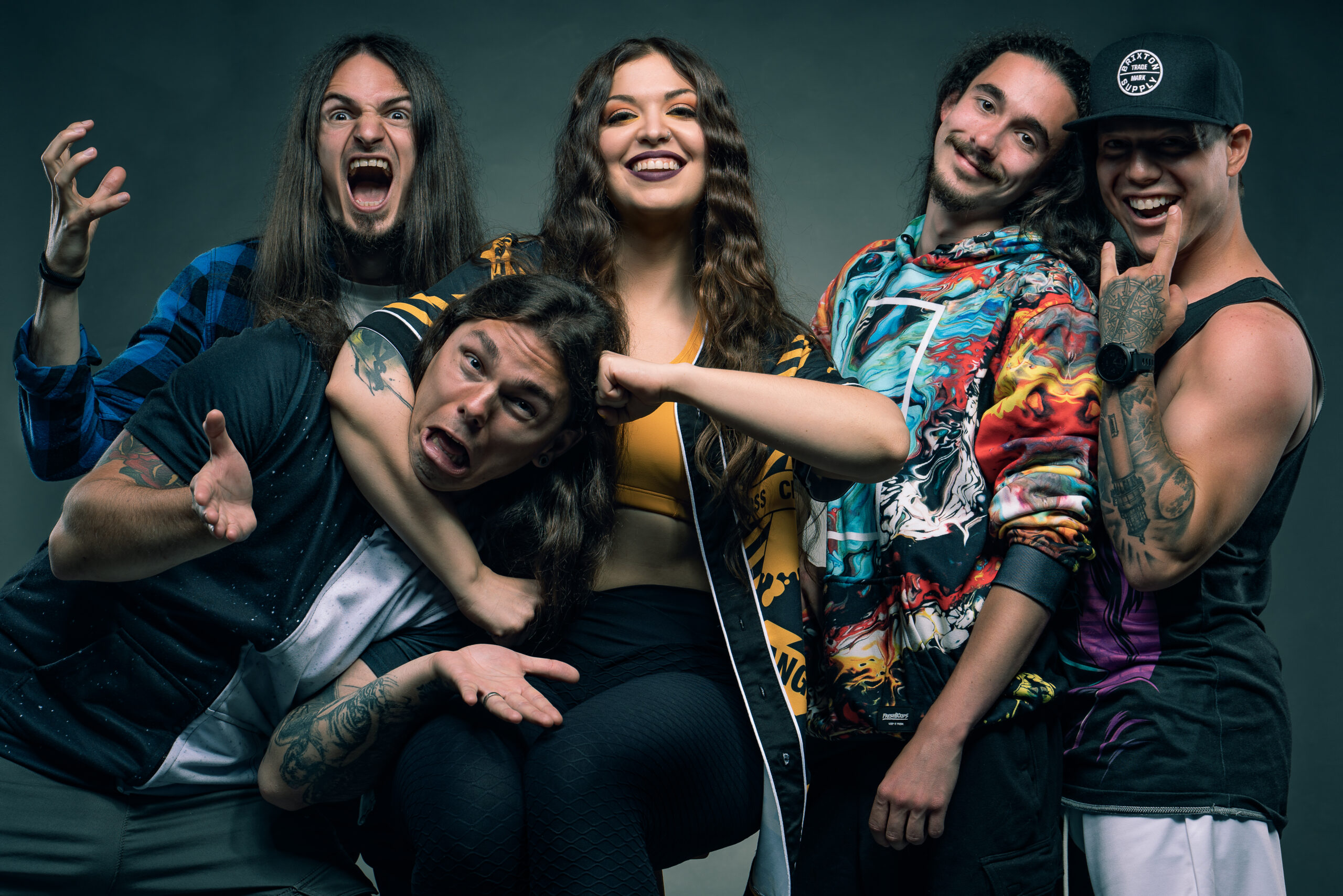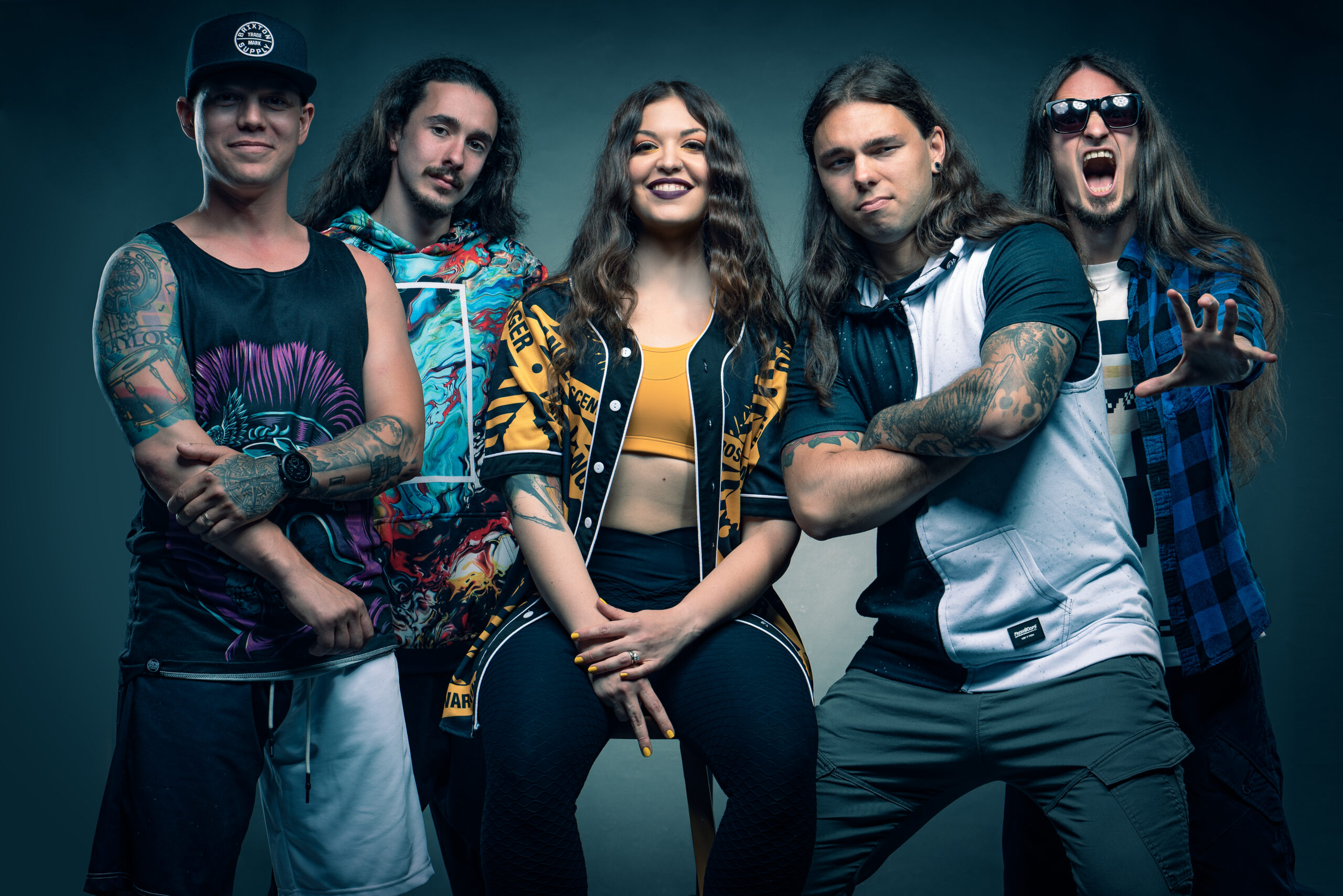 Outliers never stick to the script. Instead, they constantly and consistently surprise. As such, Sicksense bob and weave past any and all boundaries, flipping convention upside down and fusing heavy metal, hip-hop, and alternative like never before. Extreme screams puncture nimbly rapped verses, tempering a male-and-female call-and-response and giving the metal game a truly "New" sound. Unpredictability drives the Canadian quintet—Vicky "Killer V" [vocals, keys], Rob The Ripper [vocals], Breakdown Bran [guitar], Spot-On Sam/SOS [bass], and The Trve Cody Taylor [drums]. After piling up hundreds of thousands of streams and views independently, the group present a scorching signature style on their 2022 EP Kings Today. 
"We're taking all of the elements we love from Nu Metal and updating them for today," states Rob. "We're always asking, 'How can we take this sound one step further?' Musically, Vicky and I complement each other's vocal styles. We both scream, and we both rap. We're intentionally having a back-and-forth. There's a conversational tone within the lyrics."
"We all have different tastes and influences," observes Vicky. "We're simultaneously in very extreme bands outside of Sicksense, yet we're writing Nu Metal. It's the music we grew up on, and we're trying to make it as catchy as we can."
Sicksense quietly gestated over the past few years. In between holding down vocals in Stuck Mojo, Rob wanted to start another band, drawing on formative influences as diverse as Linkin Park, Limp Bizkit, Korn, Papa Roach, Evanescence, System of a Down, and Disturbed. After teaming up with Bran and Cody, Rob didn't have to look far for a co-vocalist, asking his wife Vicky to join the fold. In addition to the perfect balance, she brought the name…
"I saw it in a dream," she recalls. "I woke up in the middle of the night and told Rob. In the morning, he understood it. 'Sicksense' holds a few different meanings, my favorite being a "sick sense of humor". It has a throwback vibe that goes with the music, because even though we take the lyrics seriously, we're trying to make the presentation and visuals funny and lighthearted. It works well for us."
"Vicky is a tremendous singer and lyricist," adds Rob. "Since we're married, it's natural for us to work together. We're also super productive because we're in the same house!"
Bran initially penned demos and shared them with Rob and Vicky. Sam joined the fold, and they hit the studio with producer Christian Donaldson [The Agonist, Beyond Creation], recording what would become Kings Today. Vicky introduced keyboards and electronic flourishes, expanding the arrangements and sonic palette in the process. They unabashedly channeled "Straight-up Nu Metal" with their own flare and fire.
Sicksense paved the way for Kings Today with "Make Believe," generating 60K YouTube views and 143K Spotify streams. The title track and single "Kings Today" slips from a cinematically creepy keyboard intro into a trudging detuned groove punctuated by pinch harmonics. Vicky and Rob lock into a vocal crossfire before her hypnotic hook takes hold, "We will be kings today."
"It discusses society," notes Rob. "We all have disagreements on politics; it's a bunch of nonsense. We should all be on the same side, because we're all human beings. We could get along, but we have these trivial problems in our everyday lives that cause friction."
"People focus on our differences too much," agrees Vicky. "We should focus on what we share in common."
Then, there's "Forgotten Days." A searing lead cuts through the pummeling riff as the vocals paint a picture of a crumbling relationship.
"It's a conversation between a couple," Rob elaborates. "The girl says, 'I see you harming yourself, and it hurts me'. The guy explains his perspective. They decide to leave their problems in the past and move on."
Elsewhere on "Soul Snatcher," a sidewinder riff crashes into nimbly spun rhymes about "giving into the bad side of yourself and letting the demons win" as Vicky's theatrical delivery echoes on the bridge.
In the end, Sicksense find humanity within their originality.
"This is the most personal project for me, because I'm speaking on my experiences," Rob leaves off. "Hopefully, you hear these songs, and you know there's more to life and you're not alone."
"We're trying to create something original," Vicky concludes. "We put so much into this collectively. I can't wait for everyone to hear these songs, because that's where the magic is—the connection."

SICKSENSE is:
Vicky Psarakis aka "Killer V" – Vocals/Keys
Robby J. Fonts aka "Rob The Ripper" – Vocals
Branislav Panic aka "Breakdown Bran" – Guitars
Samuel Bedard aka "Spot-On Sam/SOS" – Bass
Cody Taylor aka "The Trve Cody Taylor" – Drums