Vicky Psarakis is proud to be collaborating with Blakhart Coffee for her very own Signature Dark Guatemalan Coffee aptly titled, "Blood Brewed"!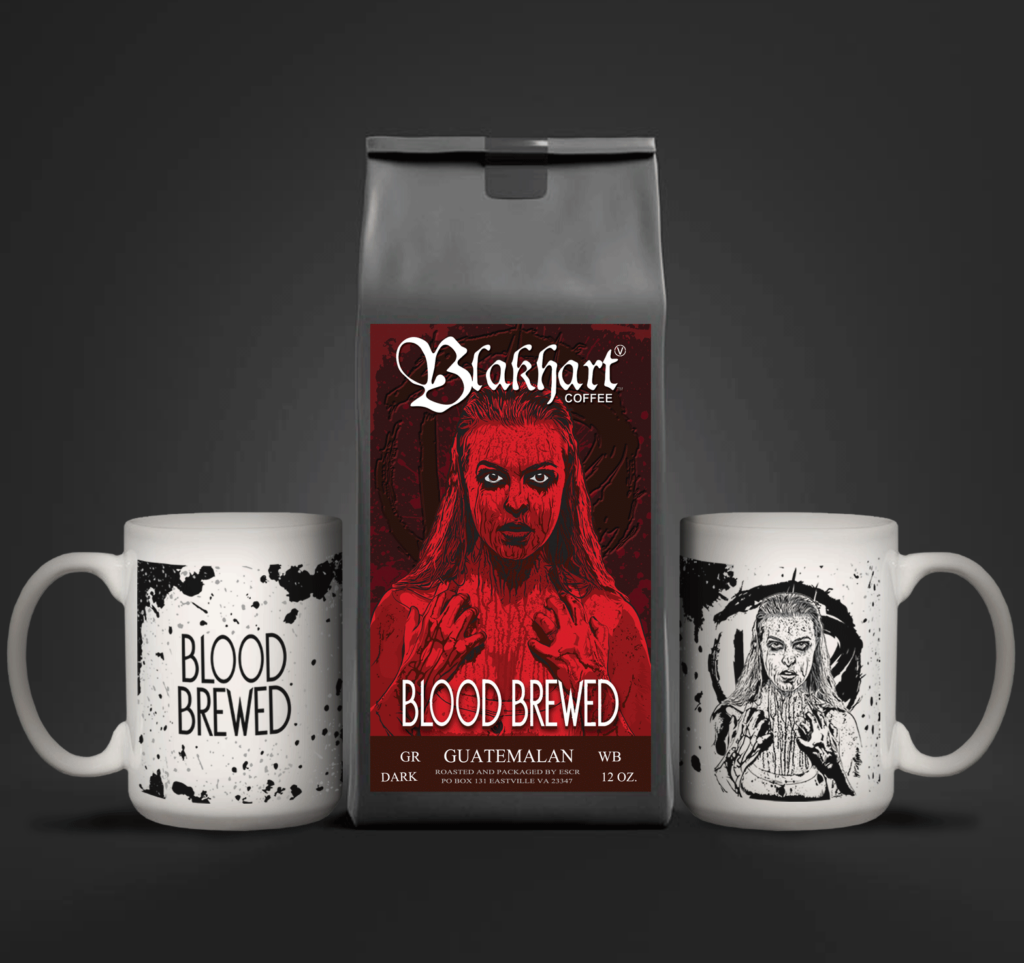 Watch her official video announcement Here.
Here's what Vicky additionally had to say:
"I cannot even begin to describe how excited I am to finally share with you my very own SIGNATURE BREW!
Earlier in the year I had the immense pleasure to meet the mastermind behind Blakhart Coffee and after trying their 'fees… I was hooked. It was a no brainer. I can't thank them enough for feeding my caffeine addiction since and for welcoming me into their family!
Also, since my gigantic 20oz mug is almost sold out… I couldn't resist and created a brand new "BLOOD BREWED" 15oz mug!
After creating multiple designs for me and my various projects in the past, my good friend Brad Geier is finally coming out of the shadows to take credit for his amazing work!
This is a rather lengthy post, but this has been months in the making with 2 of my very best friends and I'm just extremely sentimental presenting it to you!
Because HALLOWEEN can last all year round!"
Here's what Blakhart Coffee had to say:
"We could say our collaboration was a fated event, somehow predestined by the Gods, or that it was simply an organic universe connecting creative dots.
The true nature of its clandestine path shall remain concealed and known only to our essence of consciousness for the unforeseen future…
What we do have cognition of is that working to create something magical and unique is one of the most rewarding experiences this mortal coil can provide.
Born from our creative houses of art, "Blood Brewed" binds together elements of many disciplines to unite us on our individual paths of existence.
We sourced a dark, volcanic earth grown bean from one of the highest Guatemalan peaks in Central America. The intense, ash-enriched soil saturates the incubating host with elements from the most ancient depths of our planet's molten core. We then old school small batch roast our harvested selections to Dark French perfection.
Unique to our production is the Kor-Infusion™️ process where we bombard the transforming selections with intense sound waves chosen specifically by the Artist.
The result is a uniquely addictive beverage that will be imbibed by coffeeholics and V-Squad kVlts internationally.
Each bag includes our exclusive FLAIR™️ system which gives you a peel off vinyl label that you can re-stick almost anywhere! Put a Killer V on your toolbox, guitar, windshield, coffin or wherever!!!"
Preorder the Vicky Psarakis "Blood Brewed" Bundle Here.